As the popularity of bitcoin has grown, the demand for new and simpler ways to buy has become more important to consumers, merchants, and traders alike. It used to be that figuring out how and where to buy BTC was very confusing. Thanks to Uphold, that is no longer the case. You can buy BTC along with 6 other popular cryptocurrencies, tokens and 23 traditional currencies with just a few clicks from within your Uphold wallet using your bank account, debit or credit card*.
Here's How to Buy Bitcoin with a Debit or Credit Card:
Log into your Uphold account, once logged in you will see the Uphold dashboard and a collection of cards. These cards store your funds in over 30 currencies, including bitcoin, litecoin, ethereum, USD, GBP and more!
Select the card you would like to fund and click 'add funds'.
Important note: when funding from a debit/credit card you will need to first add funds to a traditional currency such as USD or GBP then transfer that value to the cryptocurrency of your choice.
If you haven't already linked your debit/credit card you can do so easily.
Once linked you can also customize the details of your card, by adding a name such as "My Wells Fargo Card". Remember, that your debit or credit cards must be eligible for the Verified by Visa or Mastercard SecureCode.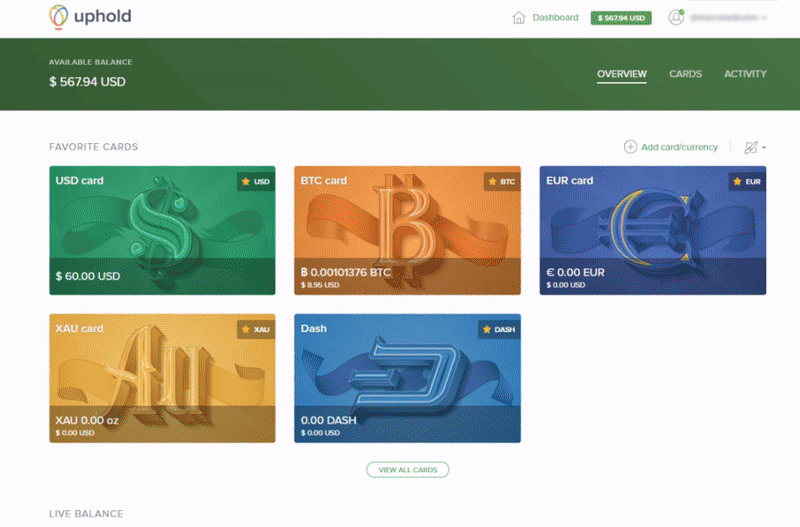 That's it, you're ready to fund your Account!
Here are our most frequently asked questions about adding funds and buying bitcoin:
How Do I Become a Verified Member?
Since the debit and credit card integrations are only offered to verified members, it is important to verify your account. To become a verified member, just click "Start" under membership. For more information, check out our step-by-step guide here.
What Other Currencies Can I Purchase With My Debit/Credit Card?
Uphold supports over 30+ traditional and digital currencies. Whether you are looking to buy, sell, invest, or exchange it all can be easily done from your Uphold account. Uphold is more than just a place to buy bitcoin, it's a digital wallet. Verified members can instantly fund their accounts via debit/credit card to a traditional currency card (such as USD or GBP) and then transfer that value to the cryptocurrency or token of their choice. All with just a few clicks, and all within their Uphold wallet.
Is There A Fee?
Debit or credit cards are subject to a 3.99% fee, among the lowest for consumers in the U.S. or Europe. Visit our FAQ to learn more.
How Many Credit Cards can I Link to my Uphold account?
You can add up to 3 debit or credit cards to your Uphold account.
How Much Can I Spend Per Day?
With your debit/credit or card, a minimum of $50 and a maximum of $500 can be funded per day. If you'd like to increase your funding limits, this article contains information about increasing account limits.
We make buying, holding, converting, and sending value between the 30+ digital and traditional currencies we support easy for anyone to understand and anyone to do.
As always, your feedback is important to us. Feel free to drop us a line at [email protected]
This article should not be used as or considered investment advice. If you have questions regarding cryptocurrencies, tokens or any financial investments please consult your financial advisor.