Getting a bitcoin wallet address with Uphold is easy! This easy to follow guide will tell you everything you need to know about bitcoin wallet addresses and how to get one.
What is a Bitcoin Wallet Address?
A bitcoin wallet address is unique 26-35 character alphanumeric code that gives its owner access to bitcoin while providing unique protection from theft and unauthorized access to funds. It's used to complete bitcoin transactions, allowing you to send and receive money to and from other bitcoin users.
When you share your bitcoin wallet address with others, they will be able to send you bitcoin. You can think of it kind of like an account or routing number used for traditional bank transactions.
While this article focuses on bitcoin wallet addresses, many other cryptocurrencies operate using similar types of wallet addresses. While some of what's discussed here may apply to other cryptocurrencies, be aware that every cryptocurrency is subject to its own rules and customs that may either imitate or diverge from bitcoin's own protocol.
Different Types of Wallets
There are two main types of wallets: online and offline. These two types are sometimes referred to as a "hot wallet" and "cold storage."
An online wallet address, or "hot wallet," makes trading with crypto simple and efficient. This kind of wallet address makes your bitcoin, or any other crypto, available to you through any internet-connected digital device (such as a phone, laptop, or tablet).
An offline wallet address, or "cold storage,"  requires more effort, expertise, and maintenance on the part of the user. Advanced cryptocurrency users sometimes set up cold storage wallet addresses to protect large amounts of bitcoin that they do not plan to sell or use over the long term. But be careful – hundreds of millions of dollars worth of bitcoin have been lost by people who have not kept careful track of their offline wallet addresses!
Offline wallet addresses are technically safer from hackers, as they don't exist on a web server. However, when you actually want to use or move or funds–you need a hot wallet. If you get an online wallet address through a reputable, high-quality digital money platform like Uphold you can have excellent security for your funds in addition to the flexibility of an online wallet address.
How to Get a Bitcoin Wallet Address Using A Bitcoin Card on Uphold
When you sign up with Uphold, you can create a bitcoin card that you can use to buy bitcoin, send bitcoin to another member, hold, or send to an external address and which will generate a bitcoin wallet address. Any bitcoin sent to this address will be automatically added to the funds in your Uphold account.
If you don't already have an Uphold account, getting started is easy: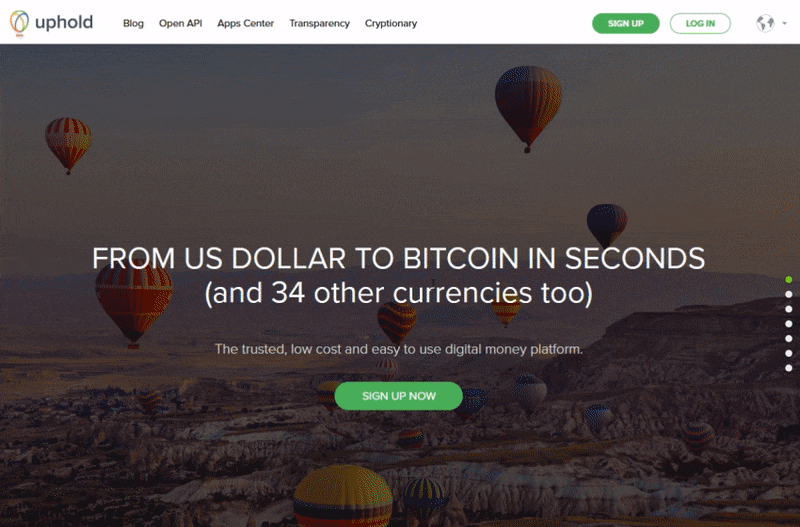 The most important part of organizing your Uphold account is getting your cards in order. Just like a real-world wallet that you keep in a pocket or purse, the set of cards in your Uphold account represent your holdings in different forms of currency and commodities (bitcoin, ethereum, U.S. dollars, Japanese Yen, gold, silver, etc.).
These cards can be used to send and receive payments, and each comes with a designated alphanumeric address.
Finding Your Bitcoin Wallet Address on Uphold
Finding your bitcoin wallet address on Uphold is straightforward. First, click on the bitcoin (or BTC) card on your dashboard. Note: You may want to mark your bitcoin card as a "favorite" if you have multiple cards in your Uphold wallet.
Once you have opened your BTC card, select the "Add Funds" tab. Next, click the "FUND with Cryptocurrency or Utility Token" button. This will take you to a menu that will prompt you to choose from among a list of cryptocurrencies and tokens. Choose Bitcoin as you are looking for your bitcoin wallet address.
Now you will see a page with the heading "Bitcoin Network." Beneath the heading will be a gray box that contained a string of alphanumeric characters. This is your bitcoin wallet address. Here is an example of what it may look like:
rgLsx6zXqXtBoNEUk5c7klfq3uSnXCNGZ1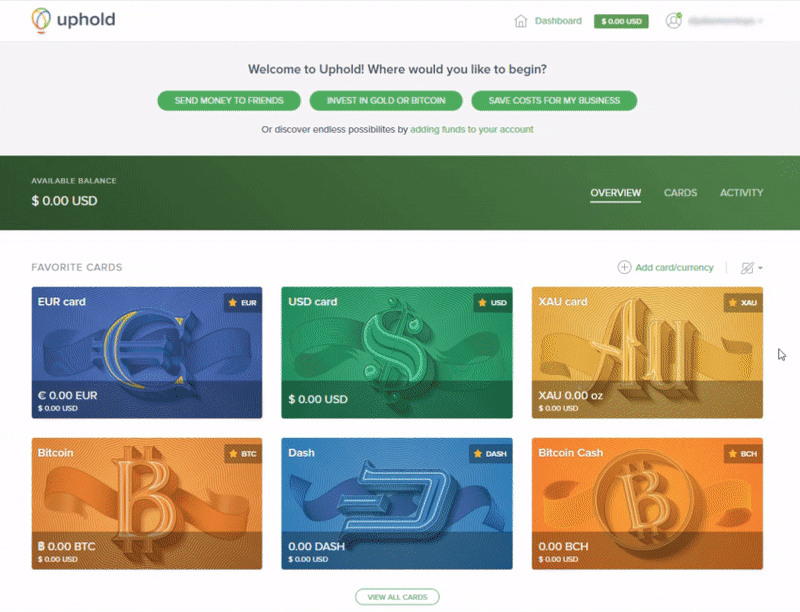 Anyone you share this address with will be able to send any amount of bitcoin to your account. But any currency sent to this address other than Bitcoin (BTC) will not be processed. Other cryptocurrencies in your wallet have their own unique cryptocurrency wallet addresses.
In addition, you should notice a graphical QR code below the alphanumeric bitcoin wallet address. This is because bitcoin wallet addresses can also be represented as a QR code. A user who wishes to send you Bitcoin can scan this QR code using the camera on their mobile device based Bitcoin wallet.
How to Send Money to External Bitcoin Wallet Addresses
Maybe you need to make a payment to a bitcoin wallet address of a friend or business associate. On the other hand, you might want to transfer some of your bitcoins to a wallet address you control outside of Uphold. You can easily make this kind of payment using Uphold as well.
Here's how:
Select your bitcoin (or BTC) card from the dashboard.

With your BTC card opened,  click the "Use Funds" tab.

In the next screen, choose the "Send to Cryptocurrency or Utility Token" option. This will prompt you to choose from among a list of cryptocurrencies and tokens. Pick Bitcoin as you are looking to make a payment to an external bitcoin wallet address.

You will arrive at a page where you can enter a 26-35 character alphanumeric bitcoin wallet address under the heading "Select a contact or type in a cryptocurrency or utility token address."

You will also enter the amount of money you want to transfer on this page.

Once you have entered the external bitcoin wallet address code, the amount you plan to send, and any message you want to send with the payment, click the Confirm button.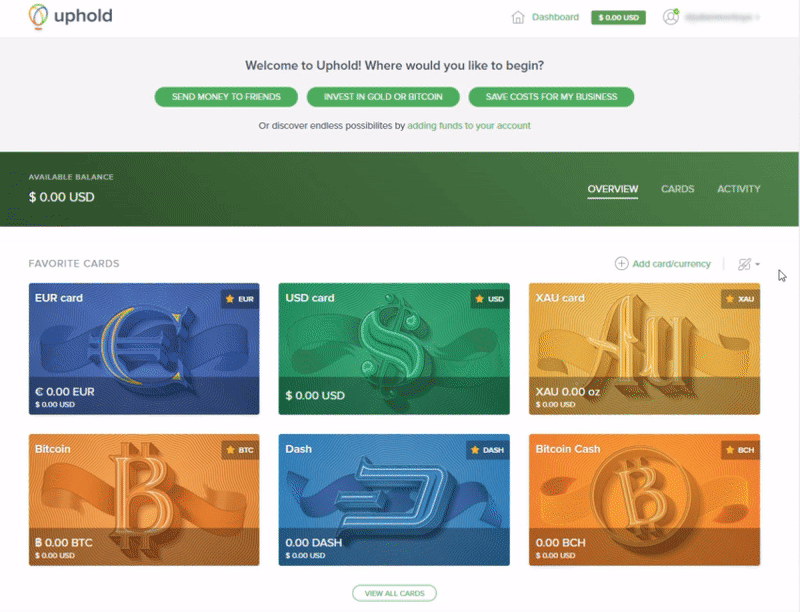 Again, these instructions are for bitcoin wallet addresses. It's important to note if you try to send other types of currency to a bitcoin wallet address, the transaction will fail. Other cryptocurrencies have their own wallet addresses; always make sure to use correctly designated wallet addresses when attempting to complete transactions using a particular cryptocurrency.
One Platform for Multiple Cryptocurrencies
That's it! Now you're ready to use your bitcoin wallet address to send and receive payments and transfer value. And you can obtain wallet address for any cryptocurrency you keep on Uphold using the method.
With Uphold, you can choose to store your resources across a wide a range of 30+ currencies, cryptocurrencies, and commodities!
Uphold makes it's easy for members to customize their dashboard and portfolios, and it's easier than ever for members to start growing their digital wallet holdings. By following this guide, you're off to the right start in diving into bitcoin.
This article should not be used as or considered investment advice. If you have questions regarding cryptocurrencies, tokens or any financial investments please consult your financial advisor.