Bitcoin cash is among the more popular altcoins and has been rallying with price hikes happening across the crypto market in April and May. Today, while the crypto market continues to fluctuate up and down, bitcoin cash has kept its spot in the top five of the coin market capitalization. Even so, it can be confusing to first-time buyers who may not understand the differences between bitcoin and bitcoin cash (BCH) or who may not know where to buy bitcoin cash.
Today, we look deeper into how one bitcoin fork set out to solve the problem of slow transactions and why Uphold is where you should buy your BCH or any of the other 30+ currencies supported including eight cryptos and 23 fiats!
What is Bitcoin Cash?
On Tuesday, August 1, 2017, Bitcoin's blockchain forked and bitcoin cash was born. Ever since then, bitcoin and bitcoin cash have operated as two completely separate cryptocurrencies with their own valuations and distinctive technical profiles.
The split between bitcoin and bitcoin cash occurred as a result of a prolonged disagreement among users about how to change the limits on the number of transactions the Bitcoin network can process. This disagreement led to what's known as a hard fork, resulting in the creation of bitcoin cash. With bitcoin cash, the size of blocks increased meaning more transactions could be processed.
What is a Fork? Hard Fork vs. Soft Fork
A fork occurs when a cryptocurrency's existing code is changed. Every cryptocurrency is based on an underlying code. When that code gets updated (like any other software) a fork can occur.
Two different types of forks can result from changes in a cryptocurrency's underlying code. A hard fork splits a blockchain into two divergent chains, which is why two distinct cryptocurrencies arise, such as bitcoin and bitcoin cash. Therefore, bitcoin and bitcoin cash share the same common history before August 2017 but exist independently after that.
A soft fork doesn't cause a split into two different coins. Instead, the change in code creates new blocks that are still recognized as valid by the old software. In other words, a soft fork is a backward compatible change in cryptocurrency code and all transactions have to follow the new protocol.
Bitcoin and other cryptocurrencies have gone through many soft forks over the years for necessary updates and changes based on consensus.
Hard forks usually occur when the development community cannot come to a consensus about a change in the cryptocurrency's code. These disagreements led to the split between bitcoin and bitcoin cash.
Bitcoin Cash: An Overview
Now that bitcoin cash exists and is here to stay, here are the current stats for this popular crypto:
BCH is currently the

4th top crypto on the market,

with a total market volume of around $1.3 million.

BCH has an

increased block size

compared to BTC, which it means it has a faster verification process and transaction speed. BTC's blocks are 1MB, whereas BCH's blocks are 8MB.

BTC has

stronger security

, because of the slower speeds.
So, when deciding between BTC or BCH, it's a matter of what you want from crypto and how you use it. In some cases, you may want to have a little of both to complete your portfolio.
Where To Buy Bitcoin Cash (BCH)
If you're interested in an easy way to buy bitcoin cash, we make the process simple and straightforward. Once you've purchased bitcoin cash, you can secure it along with all of your other cryptocurrencies on an easy to use digital money platform.
Here's how you can buy bitcoin cash on Uphold:
Sign-up for a free Uphold account.

It's easy to sign-up and once you have your account, you can become

a verified member

to get access to all of Uphold's features.

After you create an account, you will be taken to your

dashboard.

Your dashboard displays all of the cards in your account.

From your dashboard, you can create and customize your money cards. Each card reflects a supported currency.

To add a

bitcoin cash card

to your wallet click the "

Add card/currency"

button and scroll down the drop-down menu to click bitcoin cash

You will now see your bitcoin cash card in your Uphold wallet. You can add the card to your favorites and even move it around to the top of your list for easy navigation in the future.

Next, you can click on your bitcoin cash card and click

"Add Funds."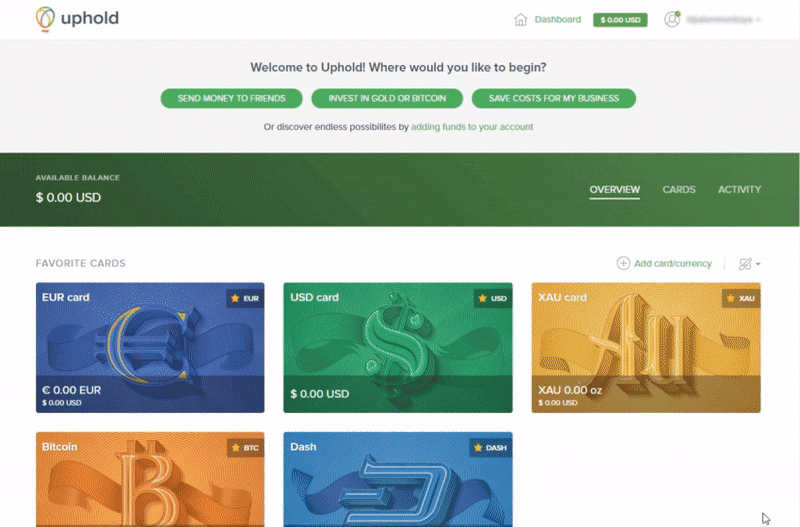 Uphold gives you many options for funding your bitcoin cash card to lock in at market rate, including from your US Bank Account, SEPA Bank Account, ACH transfers and even using other cryptocurrencies from your wallet or from a private key.
Once you add funds to your bitcoin cash card, navigate to the activity section of the card to see your transaction history and account balance information.
It's that easy! As the crypto market evolves, Uphold members can transfer funds between currencies, from their credit card or debit card, and even their bank account.
Now that you have securely purchased bitcoin cash via Uphold, you can use your bitcoin cash card to send bitcoin cash to anyone with an email address. You can also convert it back to fiat currency (e.g. U.S. dollar) by simply sending it to any FIAT money card in your Uphold wallet.
At Uphold, we're proud to support currencies that are truly innovative. We make buying, holding, converting, and sending funds between the 30+ digital and traditional currencies we support easy for anyone to understand and anyone to do.
As always, your feedback is important to us. Feel free to drop us a line at [email protected].
This article should not be used as or considered investment advice. If you have questions regarding cryptocurrencies, tokens or any financial investments please consult your financial advisor.